Voodoo Park
"Voodoo Park are a UK-based mobile software and strategy agency
Voodoo Park was founded to help businesses of all sizes create transformational technology. We have over a decade's experience in technology and mobile, with development houses in the UK, Europe and Asia."
Coapperative CMS have been working with Voodoo Park for the last year and delivered a number of projects to them for their customers. We continue to enjoy a successful on-going relationship.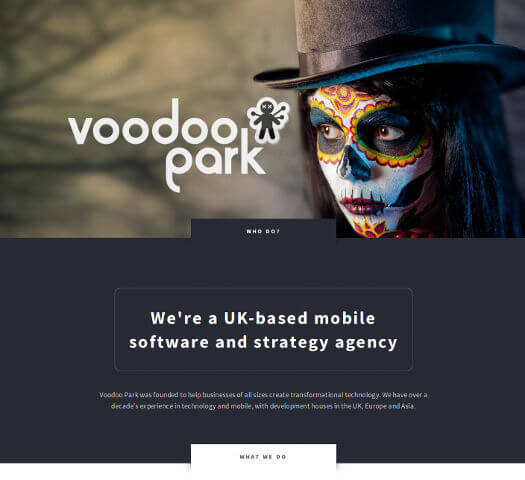 We have an excellent working relationship with Coapperative CMS. They have consistently delivered on time and to budget. Communications is straightforward, like an extended office !
What our clients are saying
Jason Ellery, CEO, Grovepark Design

We have worked with the guys at coapperative on a number of really successful projects building bespoke websites and content management systems with them. What sets them apart from others is their clear, prompt communication. And this, combined with their excellent technical delivery means that every project is a smooth and efficient affair. We also get brilliant post project support.

For us as a design agency, working with coapperative means that we can now go for those more technical briefs without hesitation. This has given our business a huge boost and clients continue to be consistently impressed by what we can now offer.
Simon Smith, COO, Black Swan

We have known and worked with Alex for a very long time and the characteristics he possesses as an individual have undoubtedly been transferred to the wider Coapperative team.

The team Alex has lovingly assembled have been carefully selected and that is one of the main reasons they are easy and fun to work with.

The quality of work that is produced has always been to the highest standard, and added reason why we will continue to work with them time and time again.